Virtualization Advisors -
Transform Your Datacenter
with VMware Virtualization
Home > Products | VMware Products
Buy VMware - vSphere 5, vCenter 5, VMotion, Storage VMotion, High Availability, DRS, and Consolidated Backup.
Virtualization Advisors - Transform Your Datacenter with VMware vSphere Virtualization.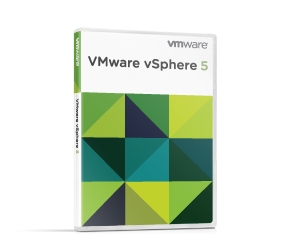 vSphere 5 – VMware has now released vSphere 5.

VMware has raised the bar once again by announcing vSphere 5. VMware vSphere 5 accelerates the shift to cloud computing for existing datacenters and underpins compatible public cloud offerings, forming the foundation for the industry's only hybrid cloud model. Take a few minutes to review and share these resources to decide how vSphere 5 can fit into your virtual infrastructure strategy.

Resources:

Ready to Buy?

Virtualization Advisors has VMware support packages for vSphere 5 at competitive prices.


Call us today
Sales (866) 496-4560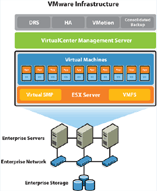 Virtual Infrastructure - vSphere 5 Standard, Enterprise, and Enterprise Plus

Get enterprise-class virtualization with VMware vSphere 5. This industry-leading product suite delivers a best-in-class hypervisor along with a comprehensive set of management capabilities that increase IT efficiency, availability and management.


Resources:


Let Virtualization Advisors get it done for you. Check out our Storage Maximum Virtualization solution for full service assessments, planning, implementations, and support.
VMware Management and Automation Tools
VMware extends their virtualization solution with management and automation tools that let you get the most out of your investment.

vCenter 5 enables consolidated management of all of your virtual machines. Virtual Center also enables advanced features of Virtual Infrastructure Enterprise like:
VMotion - Live virtual machine migration.
Storage VMotion – Live migration of VM's between different storage devices.
High Availability (HA) – Reboots or migrates a VM in case of failure.
Distributed Resource Scheduler (DRS) – Dynamically powers up, migrates, and shuts down virtual machines to meet business needs based on policies.
Consolidated Backup – Provides direct access to VM's for backups that don't overload the storage, network, or servers.

Resources:
Ready to Buy?
Virtualization Advisors has VMware management and automation products at competitive prices.
Call us today
Sales (866) 496-4560

Virtualization Advisors includes phone consulting / remote support with our VMware Engineers to assist with installation, upgrades, networking, storage configuration, and troubleshooting.